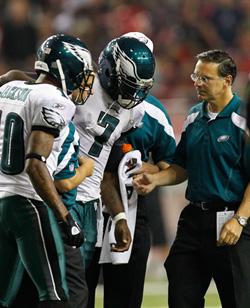 Oggi si è rivisto Michael Vick sui campi di allenamento di Philadelphia, la commozione cerebrale subita la scorsa domenica nella sconfitta contro Atlanta, sembra risolta. Ovviamente si aspetta l'ok dei medici sulla possibile partecipazione del QB numero 7 domenica nella sfida divisionale contro i NY Giants.
Dallo staff Eagles trapela una "lotta" a 3 per il posto da QB, visto che anche Vince Young si è ormai ripreso dall'infortunio al tendine del ginocchio che lo ha tenuto fuori dalla preseason. Altrimenti la scelta ricadrà su Mike Kafka che già contro i Falcons aveva sostituito in modo egregio Vick. Per Kafka un parziale di 7 su 9 per 72 yards sono un incoraggiante prova per essere scelto contro i Giants. Prudentemente sarà questa la soluzione migliore, così che in caso di un match "facile" si possa far riprendere al meglio sia Young che Michael Vick.
L'altro grande QB fuori per infortunio in questa stagione è Peyton Manning. Dopo l'intervento al collo sembra che la sua cervicale stia guarendo, molto incoraggiante per l'ambiente la sua visita al camp dei Colts di martedì. Manning però non ha effettuato nessun allenamento, nè provato alcun lancio. I dottori sono stati molto chiari, Peyton non rientrerà ancora per diversi mesi. Probabilmente questa stagione non lo vedrà mai in campo, anche perchè per Indianapolis non si prospetta nessuna possibilità di accedere ai playoff senza Manning, quindi inutile rischiarlo nel finale di stagione.
Intanto torna d'attualità la situazione di Terrell Owens. Il wide receiver ex. (49ers, Eagles, Cowboys, Bills e Bengals) è tornato da un viaggio in Korea per curare con cellule staminali il suo infortunio al ginocchio, dove a Luglio è stato operato al legamento crociato anteriore. T.O. ha voluto far sapere del buon esito del suo viaggio/ricovero tramite Twitter.
-
"Korea was a succesful trip! Koreans r sum of the nicest ppl ever!! The hospitality shown on Korean Airlines was beyond 1st class!!"
Dispiace che nonostante tutti i suoi sforzi per rientrare al più presto, a breve non si vede la possibilità di venir firmato da qualche franchigia. Non ci possiamo però esimere dal fare a Terrell i migliori auguri di pronta guarigione.