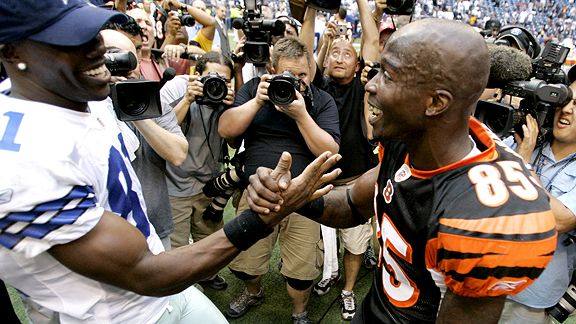 E' fatta in questi minuti 23:45 (5:45 p.m. East Time) stanno uscendo le notizie da autorevoli fonti, che finalmente c'è stata la firma tra il Wide Receiver Terrell Owens e i Cincinnati Bengals.
I termini del contratto sembrano essere di 2 milioni di dollari per una sola stagione con ulteriori 2 milioni al raggiungimenti di bonus prefissati.
I vertici dei Bengals visto l'interesse a concludere la trattativa da entrambe le parti si è deciso di stringere ulteriormente i tempi per permettere cosi ad Owens di essere già giovedi presente al Training Camp.
Abbiamo anche la prima dichiarazione di T.O. da Twitter:
-
"Hoping 2 b a Bengal w/in the 24hrs!!"
L'amico di sempre Ochocinco non si è fatto attendere:

- "My homeboy is a Bengal, all of our games have been moved to pay-per-view, you got to pay to see this shh!
"
- "bruh congrats now get your ass here so we can make a game plan over some mcdonalds
"
Domani le ulteriori info sulla trattativa e i dettagli del contratto.